What. A. Month. It's been bonkers for me! Literally just all systems go from day one until the end of the month! Weirdly, December's looking a lot more chill!
Thanks to being super busy and also having a bit of a reading slump, I went from reading one book in 3 weeks, to 3 books in one week! I still managed to hit my target of 4 books a month though, so at least I did that, haha!
Books I read in November
The Scorpio Races by Maggie Stiefvater
Rating: ★★★★☆
Themes: poverty, sport, social classes, danger, diversity, gender equality
Mini review: The story follows Puck Connolly and Sean Kendrick, both competitors in the Scorpio Races for very different reasons. The Scorpio Races are the biggest attraction of Thisby Island, and see the island's inhabitants race on capaill uisce, which are huge, dangerous water horses with an appetite for blood.
Puck is driven to enter the races in hopes of winning the prize money after her older brother and family breadwinner announces he's leaving the island and thus leaving her and her younger brother to fend for themselves, since their parents were killed by capaill uisce. Puck's gone her whole life trying to ignore the existence of the water horses, but is forced to face them in hopes of keeping her family together and creating a better life.
Sean, on the other hand, was pushed in the opposite direction to Puck when his father was killed by the horses. His whole life is the capaill uisce. He works at a stable, and is known to island residents as the horse whisperer. He's won the races four years in a row, and considers Corr, his capall, his only family. He's not scared of the horses like everyone else is. But there's something he's fighting for too.
As their pathways intertwine, Puck and Sean's stories develop, and you find yourself unsure who you want to win. I have to say, I related to Puck only in terms of the terror I'd feel around the creatures, but to Sean on pretty much every other level. Puck reminded me of a Katniss kinda character, but was much more unlikable, and I looked forward to Sean's chapters more. She did grow on me towards the end, though.
The Scorpio Races on Goodreads
Blue Lily, Lily Blue by Maggie Stiefvater
Rating: ★★★★☆
Themes: magic, mystery, friendship, relationships, history
Mini review: I've been reading a lot of Maggie Stiefvater recently, as you may have noticed! I won't go into the actual plot of the book so much as it's the third in the series and I don't want to give any spoilers, but the hunt for Glendower continues, and each character grows ever stronger in every sense. There's a mystery/quest incorporated in this mission for this book, too.
What I like about Maggie Stiefvater is that there's a kind of grittiness to her works, which I find refreshing from a female YA author. She's not afraid to swear, the female characters are strong and varied and can be just as crude as the men, and there's no floral, airy descriptions of romance. I really enjoy that she has no qualms about having female characters swear or gamble or fight – sometimes I get irritated by protagonists that are seen to be doing "masculine" things, but do it in a delicate feminine way so as not to make a character seem unladylike (heaven forbid!)
I also really enjoy that I can pick up one of her books without worrying about having to trawl through rambling passages about eyes so deep you can swim in them and muscled arms just waiting to hold the main character (*vom*). Any hints at romance are more realistic  – a little awkward, kind of messy, and pretty much a side-plot instead of one woman's all-consuming quest to be swept off her feet by a handsome suitor.
Blue Lily, Lily Blue on Goodreads
Stalking Jack the Ripper by Kerri Maniscalco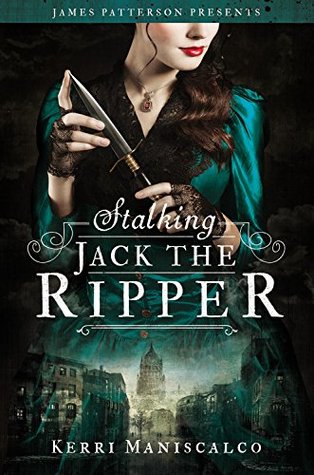 Rating: ★★★★☆
Themes: mystery, history, true crime, thriller, forensic science, horror
Mini review: I was pleasantly surprised by this one, actually. I kept seeing it flashing up all over Instagram, and ignored it for aaaages before eventually giving into the hype and buying a copy, and I'm glad I did.
The story follows Audrey Wadsworth, the daughter of a lord, who prefers to have her hands coated in the entrails of a cadaver instead of cream and jam from afternoon tea.
Living in the Victorian era, Audrey struggles to pursue her interests in forensic science due to the attitudes towards women, especially ones of the upper class. However, when her uncle and secret mentor in the sciences is accused of being Jack the Ripper and thrown into an asylum for the murders of multiple women, Audrey and her uncle's intern, Thomas, begin an investigation into the Ripper in the hopes of proving her uncle's innocence.
It definitely has a refreshing take on Victorian women – Audrey wasn't afraid to flout gender norms and be true to herself and her own desires. It was a much more welcome take on the topic than Clockwork Angel, which is also set in the Victorian era, offered. In that, the main character was horrified by women who wore trousers and stood up for themselves, and let herself get pushed around by a love interest who was an arsehole. In comparison, Audrey actively fights for her right to study and demands to know why her intellect is worth less based on her gender, and she's not afraid to quite literally get her hands dirty. She demands respect and scrutinises any potential romantic advances towards her, not letting the idea of a charming gentleman wining and dining her take her mind of the job, and only allowing things on her terms – she has more important things to do than find a boyfriend.
It's also true to the real Jack the Ripper crimes in terms of victim names and times/methods of death etc., so the morbidly curious side of me was absolutely fascinated by the depravity of this unfound killer and his motives.
I'm definitely going to pick up book two, Hunting Prince Dracula!
Stalking Jack the Ripper on Goodreads
Fantastic Beasts and Where to Find Them by J.K. Rowling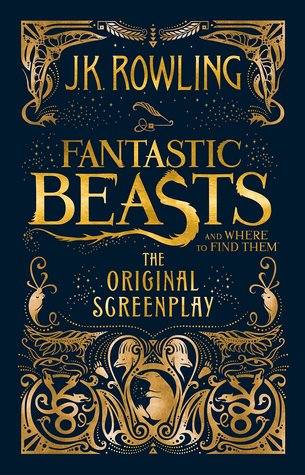 Rating: ★★★★★
Themes: magic, animal welfare, prejudices, relationships, good vs bad
Mini review: I loved this book! I've only just gotten around to reading it, despite seeing the film months and months ago, and I'm so glad I didn't get put off by my boyfriend asking what the point of reading the screenplay was when I'd seen the film three times, because whilst I loved the film, I think reading the screenplay helped me understand the characters more, and why they act the way they do.
I loved all the characters, and I loved the fact that it's both lighter and darker than Harry Potter at the same time. Yes, it follows a kind of bumbling wizarding equivalent of Steve Irwin on a quest to educate his fellow wizards on magical creatures, but there's a sense that no one's safe from the "bad guy" in this. There's humour and light-heartedness, but it touches on some real issues and is pretty poignant in places. I don't want to give spoilers, but there's kind of a grey area in terms of who the bad guy is, a lot of blame can be shared around, and there's no flitting around killing people because they're innocent. Of course, I'm not by any means saying it's good to kill innocent people, but the world is a horrible place sometimes and unfortunately this does happen, and there's nothing more annoying in films and TV shows than main characters constantly defying death in situations there's NO WAY they'd get out of in real life, whilst the side characters coincidentally drop like flies!
What did you think if you've seen/read this?
Fantastic Beasts on Goodreads
Books I bought this month (aka things I pretended were Christmas presents for other people, then kept for myself)
Advanced Reader Copies I received this month
I didn't really buy any other bookish goodies in November, as I was too focussed on Christmas shopping and crying at my diminishing bank balance!
How was November for you? What was your favourite read? Leave me a comment!